Optical DisplayPort Extenders
DisplayPort Extension Cables
---
DisplayPort Modular Extenders
---
---
DisplayPort 1.2 Active Optical Cables : DPFC-200D
---
---
DisplayPort Optical Cables : M1-5000
---
---
Opticis Co., Ltd., the leading developer and manufacturer of optical extension systems, introduces a new fiber optic cable for DisplayPort extension. Opticis DisplayPort optical extension cable is named as M1-5000, which is designed to extend DisplayPort over hybrid cable up to 100 m.
The DisplayPort standard - which defined by VESA (Video Electronics Standard) - is an attractive alternative to digital display interface such as HDMI and DVI. Optical technology for this transmission stretches the performance beyond the limitations of copper wire with longer length, data security, negligible RFI/EMI and the elimination of costly analog distribution systems.
M1-5000 Optical DisplayPort extension cable complying with VESA's EDID (extended-display-identification) and MCCS (monitor-control-command-set) standards and its compact end connector design easily allows direct connect to the HDTV source and display peripheral.
Applications Include:
Home Theater applications.
Digital TFT-LCD FPDs, PDPs and projectors for medical imaging, air traffic control, factory automation, conference rooms, auditorium A/V systems, etc.
Kiosks with digital FPDs showing full motion graphic displays from remote systems.
PDP displays for information display in public sites.
LED signboards in streets and stadiums.
[ Connection Tip ]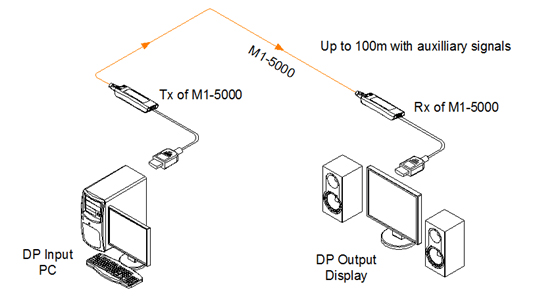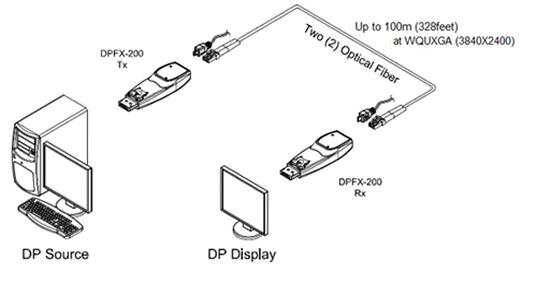 ---